Yamaha CP88 Keyboard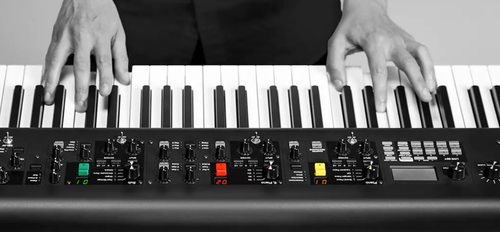 I've played Yamaha's CP88 exclusively for severals years. The CP88 and CP73 keyboards feature an interface that  many reviewers and players. agree is extremely intuitive and musical. 
Arranged with 3 zones for easy access to a huge range of great keyboard sounds, setting up layered sounds and changing sounds as you play is easier than ever.
Click here to learn more about the CP keyboards.
Sunday Keys with MainStage
Sunday Keys has been an integral part of my keyboard set up as a worship leader and songwriter for years. It's filled with fantastic sounds that instantly inspire me and enhance whatever song I'm playing.
Learn more about this essential resource at SundaySounds.Com.
Korg Nano Kontrol 2
If you're using Sunday Keys, MainStage or Ableton Live, you'll find that the Korg Nano Kontrol 2 is essential to working efficiently. It's available at most online retailers.